I told you about that twisted thingamajig sculpture, mentioning how it is made, where it was from and where I purchased mine.
It was once featured at Wisteria for around $500, as I recalled. I only paid a fraction
of that amount.
You can read all about it

here

.
Well today I saw this one at One Kings Lane :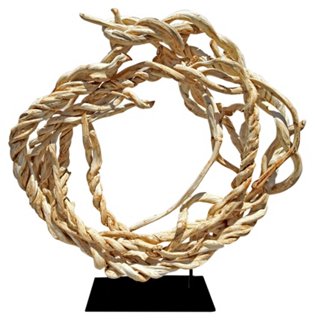 One Kings Lane
Much to my surprise it was on sale! $999, marked down from $2020!!
I was
stunned at the price!
It is a little larger than mine, but I really like
the character of mine much better.
I also like the price I paid much, much better!!
I like it even more than I did before!
Which reminds me of a little story: When I was in the retail business (I owned 3 women's specialty stores & they were a bit upscale), a customer was admiring a pair of earrings. She wanted them so badly and they were only $20. So what was the problem? She studied them for them for a while, moaned and groaned, and then she said, "I would like them a lot better if they were $200."
Until next time, Honey
Linking to:
A Stroll Thru Life
Coastal Charm
Savvy Southern Style
Stuff and Nonsense
From My Front Porch to Yours